Modular Manufacturer Profile: Express Modular

Telephone: (800) 275-7532
Website: www.expressmodular.com

Overview
With a huge selection of hundreds of pre-designed floor plans and the ability to custom build a home from scratch, Express Modular is capable of taking on just about any standard build. They serve every state east of the Rocky Mountains. Search Express Modular's extensive stock of standard floor plans through our database here.
What Makes Them Unique?
In addition to their expansive collection of traditional homes, Express Modular is one of the few manufacturers that makes log style homes. These homes have the timeless, rustic look of a log cabin while still having the energy efficiency of a modular home. Log homes are often built in the chalet style and look incredible when set in a wilderness location.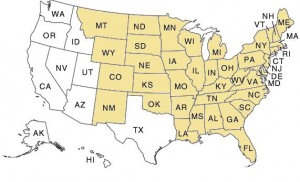 Build Area
Alabama, Arkansas, Colorado, Connecticut, Delaware, Florida, Georgia, Illinois, Indiana, Iowa, Kansas, Kentucky, Louisiana, Maine, Maryland, Massachusetts, Michigan, Minnesota, Mississippi, Missouri, Montana, Nebraska, New Hampshire, New Jersey, New Mexico, New York, North Carolina, North Dakota, Ohio, Oklahoma, Pennsylvania, Rhode Island, South Carolina, South Dakota, Tennessee, Vermont, Virginia, West Virginia, Wisconsin, Wyoming
Factory Tours
Express Modular will reimburse you for up to $500 in travel expenses to take a tour of their factory if you end up having them build your home. To Schedule a tour send an email to [email protected] or call at (800) 275-7532. Tours are available at their factories in Liverpool, PA; Middleburg, PA; Selnsgrove, PA; Bristol, IN; Topoka, IN; Pinckneyville, IL; Deer Creek, IL; Martinsville, VA; Rocky Mt, VA; Wylliesburg, VA; Salisbury, NC; Plant City, FL; Aurora, NE; Central City, NE; Dyersville, IA; Watertown, SD; Milliken, CO; Sprakers, NY.