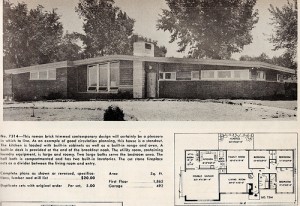 It's no secret: I love all things vintage. There's something so homey and nostalgic about seeing the faded sepia photographs in family albums. I analyze every aspect of the photo: the furniture, the hairstyles, the clothes… It's all a wonderful flashback to the happy times.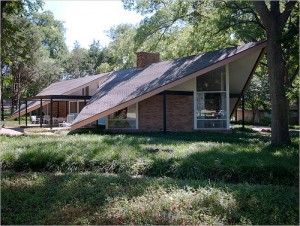 Photo Credit
More often than not, I always think "Man, I wish my Grandparents (or parents) had saved that couch!"…or something similar. While new, modern homes have a shiny appeal to them, I can't help but fall in love with mid century homes. Mid century modern homes always remind me of my childhood. Pink tiled bathrooms will always make me think of my Grandmother's own private bath (she wouldn't let my Grandfather share a bathroom with her haha!) …Mint green paint was displayed in more than one room in their house. And who could forget the boomerang Formica counter tops in the kitchen? It was little details like this that really stand out in my mind!
I was reading through one of my favorite blogs earlier today, when I came across a post about mid century modern homes. There are other retro lovers out there who make it a point to keep the memories alive. Living in 'time capsule' homes, these homeowners maintain and restore the original houses of the time period.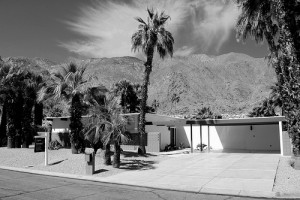 Photo Credit
Two amazing homes were featured in this post. One home in Nashville, Tennessee is from 1974. While the 70s aren't my favorite time period, there's no denying how gorgeous the architecture of this home is. From the spiral staircase (covered in mustard shag carpet, of course!) to the master bathroom that features a sunken tub and a plethora of greenery, every detail in this home is perfect. You can view the entire photo set (over 800 pictures!) here!:
https://picasaweb.google.com/rickmarinoshow/840Stirrup?feat=directlink
…Wouldn't you love to just curl up in the sunken seating area in front of the fire place? Love it!
But the real gem that stood out to me from that blog post, was the mid century modern home from Houston, Texas. (And guess what? It's up for sale!)
This mid century ranch home was built in 1957. …They just don't make 'em like these anymore, folks. The focal point of this 4,664 square foot home (wow!) is the glorious round living room! There's actually two separate sitting areas in the circular living area. They are divided in part by ornate wall dividers, and one of the most gorgeous double sided fireplaces. Made out of flagstone, the fire place truly is a focal piece. Can you imagine throwing a party in this home? Images of Mad Men are popping up in my brain right now haha!
As with the 1974 home from Tennessee, the owners throughout the years have kept this 1957 mid century home in impeccable shape. (You can view all of the pictures here!) Browse through the pictures…you'll even find a pink tiled bathroom!
If money wasn't an option and you could have any home you would like, what would you get? Mid century modern homes will always have a special place in my heart!