I love looking at photos of home decor inspiration online. (Some of my favorites can be found at http://www.houzz.com/ and http://hookedonhouses.net/) I don't know what it is about looking at home style images from years prior, but it makes me nostalgic for my youth. When I see the same end tables my Mom used growing up, or the same kitchen cabinets that were found in my Grandparent's house, I yearn for my youth.
I'm an avid retro enthusiast. The wild and kitschy home designs have always been my favorite, so I suppose the 1950's-1970's would be my favorite years for home décor and home design. Let me walk you through some of the most prominent home decor inspirations throughout the years. From orange and yellow paint selections to the pink tiled bathrooms, you will see how the interior designs have changed throughout the years!
1940s
The 1940s were a confusing time; with WWII upon us, men were at war while women left their homes to fulfill the jobs of men. Once the war ended, life started getting back to 'normal'; enter, the Baby Boom and the mass movement to the Suburbs. It was during this time that single-family homes became prominent. Suburban homes offered the 'American Dream' of green lawns, backyard BBQs, state of the art appliances and open floor plans. According to Pam Kueber, the home décor and style of the 1940s had these characteristics: "innocent, sentimental, sunny, sanitary, patriotic, traditional, Hollywood glamour, and carryover streamline-deco-jazz."
After the war ended and the Suburban America started to take formation, so did modern interior designs and styling. While ornate and plush fabrics dominated years prior, the 40s saw the introduction of chrome pieces. Linear and simple were two characteristics of the furniture and home style. Colors of the post war 40s included the basics; browns and black, contrasted with the shiny chromes and metals as well as a lot of jewel tones.
The simple design of a 1940s kitchen stove; notice the jewel toned metal and floral accent piece!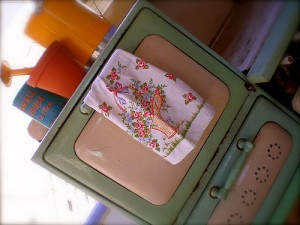 Photo Credit: http://www.flickr.com/photos/[email protected]/2447298485/ 
Key home furniture pieces and home décor style of the 1940s: colored bathroom tile, hook rugs, floral designs in fabric and wallpaper, wall to wall carpeting and ruffles!
1950s
The 1950s was probably one of my favorite decades for home decor; the hope and excitement for the future was epitomized in the cheerful colors of this era. I'm getting flashbacks to my Grandparent's home; they had bought their house (single-family ranch) in the 50s, for a price so low I won't even mention it. What stands out to me about the house most of all? The mint green paint they used in just about every room of the house, as well as the bathrooms; one was entirely canary yellow and the other, my Grandmother's bathroom, was entirely pink. Like, cotton candy pink. As a girl, I thought this was the coolest thing, and couldn't understand why my Mom decided to use wallpaper with geese on it.
With women back in the home as opposed to working, kitchen décor and design became very prominent. (After all, Mom needed to spend quite a bit of time in the kitchen perfecting her famous meatloaf!) 1950s kitchens kept with the same style as the rest of the house; bright pastels offset by chrome. The formica kitchen table was a staple in most homes.
1950s bathroom tile; what a surprise…it's PINK!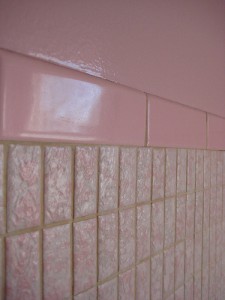 Photo Credit:  http://www.flickr.com/photos/[email protected]/4460994732/ 
Key home furniture pieces and home décor style of the 1950s: knotty pine cabinets, pastel-colored EVERYTHING, state of the art kitchen appliances (in pastels, obviously!), sputnik light fixtures, and rattan furniture!
1960s
While the 1950s home style was pretty in pastels, the 1960s home décor became louder as the decade went on. While the 50s focused on family values (IE:Leave it to Beaver) the 60s were a time of change and rebellion (anyone remember rule defying Karen, the older sister in The Wonder Years?) With many different political and social events going on during this time (The Cold War, the space race, the Beatles, the Vietnam War, Woodstock, Civil Rights…) the theme of this decade became 'peace and love' – or well, tried to anyways.
With this hippie love approach to life, came the home décor inspiration through the tie-dye psychedelic colors. The 60s were all about taking a stand for what you believed in, and making a statement; and boy, was a statement made with the home styles! Colorful paisley and floral fabrics were often seen on furniture, paired with nontraditional color scheme of neon colors mixed with natural hues. The contrast in colors seemed to match the turmoil going on during this decade. Home furniture in the 1960s took the laid back approach; bean bag chairs and the pod chair (or sometimes known as the egg chair) could be found in just about every living room (under a nice soft batch of shag carpeting, of course!) The 1960s home décor was all about comfort and relaxing.
1960s kitchen; notice the contrasting colors, loud floral pattern and wood cabinets!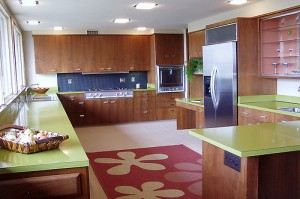 Photo Credit:   http://www.flickr.com/photos/joebehr/5882053466/
  
Key home furniture pieces and home décor style of the 1960s: crazy patterns and textures, wild color schemes, wood paneling on walls, plastic furniture and shag carpeting!
1970s
Anytime I think of home design from the 70s, my brain instantly flashes back to re-runs of The Brady Bunch. Who could forget that famous split-level home? But I think what most people remember from 1970s home décor would be the natural, laid back style. (When I think back to my youth, the one thing I remember from 70s interior design would be the macramé plant hangers that were everywhere!) The color palette of the 70s was dominated with browns, rusts, golds, yellows and greens (the green being the plants in the macramé hangers ha!) but there was usually a pop of color mixed in with the earth tones to really make a statement.
Shag carpets (and shag accessories, eek!) were still prominent in homes during this time. With the naturalistic style, we started to see a lot of wood paneling make its way into home design. Skylights became popular, as it allowed home owners to become one with the outdoors.
A 1970s living room, complete with earthy colors, lots of natural light, exposed brick, and plants!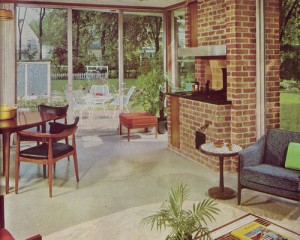 Photo Credit: http://www.flickr.com/photos/army_arch/3141370564/ 
Key home furniture pieces and home décor style of the 1970s: earth tone colors, wicker furniture, macrame EVERYTHING, hand crafted home accessories, exposed bricks and beams, shag carpets (still), geometric shapes and designs, and skylights/large windows!
1980s
Two words come to mind when I think of home style (and fashion styles) from the 80s: Laura Ashley. As a girl, I remember distinctively sitting on couches, wondering if people could find me; my floral dresses always seemed to blend seamlessly into the furniture I was plopped on. Actually, I usually blended into the (horribly tacky) wallpaper that dominated the home style of this decade, too.
I actually think there were two different home styles of this decade; the overdone floral, contrasted with the hip new neons of the 80s (my closet reflected both of these trends, by the way.) Geometric shapes still played a huge role in 80s home décor, but instead of earth tone colors, the palette switched to primaries and neons. Funky shaped furniture and houses were abundant; the contemporary home style became a huge seller! Pink once again became a dominate color of these years, but this time, a bright 'flamingo' shade or 'mauve' were the big hits. These colors were mostly paired with contrasting hues such as blue or lime green. However, the two colors that we saw paired most often together during these years were hunter green and burgundy (Re: lots of plaids!)
1980s living room – I'm actually sitting on the couch, you just can't see me because my dress is made of the same material. No, but really…this is what my house looked like growing up, sans the horrible wallpaper my Mom picked out. Did yours?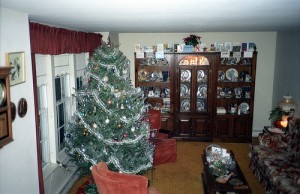 Photo Credit:  http://www.flickr.com/photos/joeshlabotnik/2230264800/ 
Key home furniture pieces and home décor style of the 1980s: floral and frilly, extravagant curtains, geometrics, frosted glass, ruffles, track lighting, laminate flooring, wallpaper (everywhere), popcorn ceilings, and etched glass chandeliers.
1990s
The 1990s brought about new technology and the age of the World Wide Web. With all of these new fun electronic toys, it's no wonder the colors of these years were dominated by greys, silvers, blues and greens. Shiny metals were used to accent just about everything; from faucet fixtures to hardware on just about every cabinet and drawer. Blinds started to replace curtains if you lived in a cool, modern home (I did not) and the frustration level rose among Americans trying to detangle the cords. Vaulted ceilings and skylights were seen in many of the homes during this time, as were walk in closets (I hated all my friends who had them!) Sectional couches and modular couches became popular in 90s home style, if only for the fact that rooms were getting larger and we needed bigger furniture.
With all of the new technology being made, home stereo equipment and entertainment centers were a staple in most living rooms. Appliances such as garbage disposals, dishwashers and electric door openers were a must for any 1990s home. Master bedrooms became popular, as did central air. During the 90s, we saw a heavy emphasis on perfectly sculpted landscapes, as well as the ever popular in ground pool (I was the cool kid who had the only in ground pool on the block!)
1990s living room; check out the high-tech computer system, plopped right in the center of things. Technology became a prime player in the home in the 90s!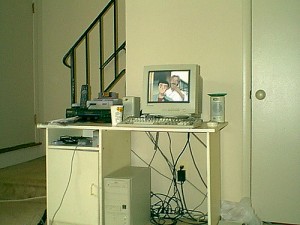 Photo Credit: http://www.flickr.com/photos/jeffcovey/3909511730/ 
Key home furniture pieces and home décor style of the 1990s: metals and shiny accents, skylights (still!), vertical blinds, mirrors as wall art, fire places, private decks, muted colored carpeting, water beds, kitchen islands, and Southwest/Aztec inspired décor!