When you hear the modular home, what comes to mind? If you're not up to date with the latest in modular architecture designs and information, you're probably envisioning the rectangularly shaped house that you pass every so often on the highway. Newsflash: modular home designs can be customized, just like any other home! Just because there's some 'square' people in the world doesn't mean ALL modular architecture designs need to be square (did you see what I did there?)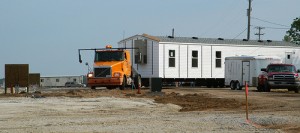 Photo Credit: http://www.flickr.com/photos/usace-kcd/5967939747/
 If you're not up to date on modular home manufacturers or how you can customize a modular home, you need to do some homework. Actually, let me be your cheat sheet; these are a few websites and articles you should check out:
Modular Home Design, Pictures, Remodel, Décor and Ideas – The website houzz.com is one of my favorite websites, hands down. If you're looking for home inspiration, make a free account and start pining your favorite home designs and styles to your idea boards. But be careful; it's addicting! I've been known to black out in house heaven! The custom modular home designs they have listed on the site are swoon-worthy!
Amazing Log Homes on HGTV Special – Have you always wanted a rustic log home cabin, set deep in the wilderness? If you haven't considered a modular log cabin, you're doing it wrong. Watch this video from HGTV: this brilliant couple spent $200,000 for their modular log cabin, which saved them "25-30% over a normal log home." Want to hear an even cooler story? They built 2 smaller modular log homes and rent them out as vacation homes! Sign me up!
See folks? Modular homes have come a long way from the stereotypes they might have had in the past. Not only is the modular architecture absolutely gorgeous, but they even help the environment! Modular homes are proud to be part of green home building and eco friendly house designs. Energy efficient homes are just another way you can help the environment – and let's be honest, who doesn't want to become part of the sustainability movement?
Have you given modular homes a second chance? Want more information? If any of you near Brooklyn are interested in the construction process of a modular home, The Modular Building Institute and the Pratt Institute School of Architecture are co-hosting a modular construction summit on May 16th 2013! Be sure to check it out!