Modular Manufacturer Profile: Simplex Homes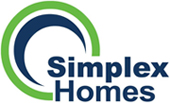 Telephone: (800) 233-4233
Website: www.simplexhomes.com

Overview
Proud of being a family-owned firm, Simplex homes dedicated themselves to "affordable luxury" custom built modular homes.  They work both with in-house designers and high end architects and engineers to provide you with their plans, build your plans, or let you end up somewhere in between. Simplex can design and build just about any type of home you can dream up, but they excel at building more traditional homes as well.
What Makes Them Unique?
Simplex homes is so dedicated to environmentally friendly construction that not only is their factory one of the most green in the industry, but they operate a sister company, Simplex Solar, that puts solar panels not just on homes that Simplex builds, but any home or business that wants to reap the benefits of solar power.
Build Area
Maine, New Hampshire, Vermont, Massachusetts, New York, Rhode Island, Connecticut, New Jersey, Pennsylvania, Delaware, West Virginia, Maryland, Virginia
Factory Tours
Simplex Homes has open houses once about once a month. You can view their schedule here.