It's that time of year again, folks! Put away those heavy boots, snow shovels, ice salts, puffy coats…SPRING is nearly upon us! …and wit that comes Spring cleaning and home organization! Hopefully my home organization tips can help alleviate some of the stress associated with Spring cleaning.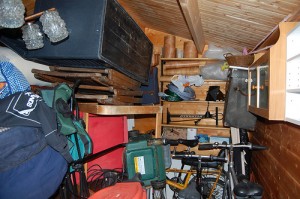 Photo Credit http://www.flickr.com/photos/54771619@N05/6791821471/
Hailing from Ohio, I'm no stranger to wild winters. I actually don't mind the snow; it's just everything else that goes along with it I don't like:
shoveling
life-threatening morning commutes
cleaning my car off
shoveling
dragging all of the snow/ice/mud/dirt into the house
…did I mention shoveling?
I don't think I'm alone when I say winter is a kind of hibernation for most of us. You leave the house when it's dark out and come home when it's dark out. (Seasonal depression? I believe it!) With so little day light and weather that's not ideal for leaving the house, our homes become a cocoon of sorts; it's our protective building that houses everything we own, just waiting for Spring to come so we can shed our excess. (Re: Spring cleaning and home organization time!)
If you're home is anything like mine, it's got nooks and crannies filled with stuff. Lots and lots of stuff. I wouldn't say I'm a hoarder; I just have a hard time letting go of all the beautiful home décor pieces I've collected over the years.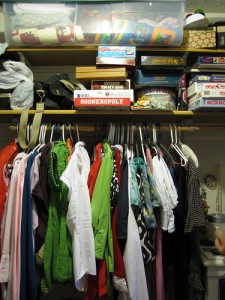 Photo Credit: http://www.flickr.com/photos/craftyconservative/3201195337/
But, home organization is a must. Nobody likes clutter. Why not give your home a fresh awakening, just like mother nature does this time of year? A few of my favorite home organization tips include:
Don't wear your heart on your sleeve. What do I mean by this? It's simple, really. One of the major reasons we acquire so much clutter throughout the years, is because we have a hard time saying good-bye to things. Whether it's because you're a material girl in a material world, and you don't want to part with you $600 bag (that you haven't used in 4 years) …or because that broken lamp was hand made by your Mother – there's no denying our feelings get in the way of home organization. For this process, it's best to leave all emotions at the door.
Invite a friend over for the home organization process. Preferably one who is organized. Home organization is stressful. Sometimes, having a helper makes this process easier. Including a friend, who doesn't have emotional attachments to objects, will give you honest advice in the home cleaning and purging process. (and it's nice having someone help lift the heavy objects!)
Invest in eye-appealing bins. Or, if you're the crafty type, make your own DIY home storage containers. Not only do storage containers hide all of the miscellaneous items we have hanging around the house, but these decorative bins can even add flare to your home décor! Check out how Jen organized her entire house!
Clean out the hidden spots in your house!Often, when one starts spring cleaning and home organization, they tackle the obvious places that are in plain sight. While these spots are most noticeable when improved, the cabinets and drawers less often used seemed to get neglected. When you start your home organization process don't forget these home organization tips like:

cleaning out medicine cabinets
cleaning out refrigerators and kitchen pantries
guest bathrooms
dusting areas such as baseboards and heaters, ceiling fan blades, and blinds.
wash curtains and drapes, throw blankets, bathroom rugs and guest room linens
One of the most important home organization tips I can give is, don't try and do everything in one day. Dedicate an hour or two a day to work on bits and pieces of your Spring cleaning. Your house didn't fill itself with clutter overnight; why should you expect yourself to pull off an entire home organization in one day? Take it little by little; work on one room at a time. Do you have any of your own home organization tips to share?